Professionalism and quality are paramount when ensuring your business and its premises are clean. Cleanliness is an important factor for businesses to consider since it reflects how you view and care for your business and how you value your staff and customers. Keeping the workplace professionally clean not only allows you to create an organized, efficient-looking work environment that establishes quality in your brand, but it can also promote the health and safety of your employees and clients. Taking the necessary steps to keep all workplace areas regularly cleaned will ensure that professional commercial cleaner standards are upheld at all times.
Professional Cleaners are Organized
Professional cleaning companies are the ideal choice when wanting a neat and organized business. They use the industry's most advanced products, techniques and equipment to ensure your building is thoroughly cleaned from top to bottom. Not only can these companies clean individual rooms such as offices, kitchens, medical rooms, and waiting rooms in your spaces, but they can also offer other services such as window-washing, carpet deep-cleaning and leaving that clean and crisp smell.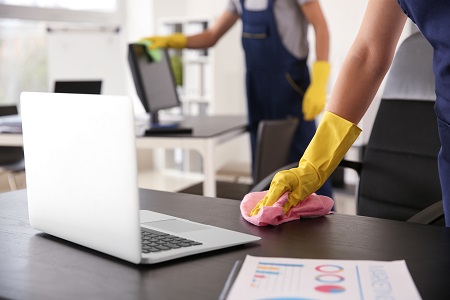 Have the Proper Equipment
Professional cleaning companies understand the importance of proper equipment that can help deep clean areas regular cleaning may not be able to reach. These professionals guarantee their work and use high-quality, eco-friendly products to help leave your space looking and feeling its best. This professional equipment will lead to sparkling cleanliness and a marked difference in your business space, leaving it fresh and new! You can trust that a professional cleaning service will go above and beyond for you and help make your company shine.
Secure and Confidential
Professional commercial cleaners provide a level of security and confidentiality that is invaluable when it comes to safeguarding the integrity of your business and property. They will make sure that any valuable or sensitive information stays secure within the four walls. Hiring a professional staff of cleaners will give you peace of mind knowing that your premise is safe.
Bonded and Insured
A reliable commercial cleaning company is necessary for any business. A reputable service provider will possess the necessary coverage and insurance policies. A fully bonded and insured business will generally offer proof of their up-to-date general liability insurance. Many companies carry additional insurance policies that provide greater peace of mind in case of an accident or issues with the property.
The Convenience Of a Cleaning Crew
With the workday quickly coming to an end, many tasks are left unfinished. Doing extensive cleaning is virtually impossible within that time frame, which highlights the importance of commercial cleaning services. During or after hours, they will take care of all of your business' cleaning needs and make sure it looks and smells great for the following day. Cleaning with a professional service guarantees that you don't have to sacrifice your working time to clean. It's not just about tidying up – employees will be encouraged by the pleasant atmosphere created by commercial cleaners, resulting in improved work experiences. When you depend on commercial cleaners to get the job done right, you can rest assured that even after everyone has gone home for the day, your business is still being taken care of every minute!
With a High-Quality Brand Comes a High-Quality Cleaning Service
When your business space is pristine, it is more inviting to customers and employees alike. The look and feel of the building play a huge part in how people view your brand. A dirty, smelly, or disorganized atmosphere won't entice anyone to come back again. To ensure your business is always looking its best, it's worth investing in the best commercial cleaning service available. Sparkling floors and offices will be noticed by everyone who comes in; with a good impression of cleanliness fostered right away. Quality maintenance of your workplace will result in trust being gained from customers and employees, leading to greater future success.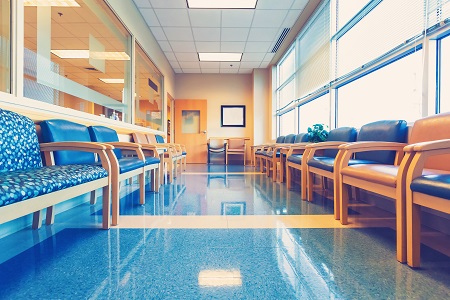 Enjoy a High-Quality Cleaning Environment
A professional cleaner can be a great asset if you're looking to keep your work environment spick and span. You don't even have to lift a fingertip – let the experts take care of it for you. Imagine starting your day in an area that looks and smells clean without having to do it yourself or worry about it at all. In addition to looks, getting professional help for your cleaning also means taking advantage of their know-how; they ensure high standards are met so you can stop worrying about bacteria or potential health risks that may go unseen. Additionally, this saves time, energy and resources that would have otherwise been put into having to clean it yourself. Professional cleaners are the way to go if you want the assurance of having a hygienic and tidy place without any trouble.
Your Local Commercial Cleaners are Ready to Help
At Health Point Cleaning Solutions of Minnesota, our team is dedicated to providing the best cleaning service for each and every one of our customers. We rely on top-notch equipment, industry-standard methods, and professional-grade products to ensure that every job is finished quickly and with lasting results. No matter what type of building you own or manage, we'll tailor a cleaning plan to work around your schedule and budget. Let us show you why we are the go-to source for all your facility's cleaning needs! Contact us today for quality cleaning services.
Here are the related services we offer:
Janitorial services
Office cleaning
School cleaning
Medical office cleaning
Church cleaning
Encampment cleaning
Visit our About Us page for more information about our company.