A tidy workspace is essential to gaining clarity and productivity, especially in the office environment. When physical chaos exists, it can create mental turmoil. Not only does clutter cause anxiety and stress, but it has also been known to magnify negative emotions and make it difficult to perform tasks efficiently. Investing in professional, full-service office cleaning help for deep cleanings can do wonders for creating a comfortable workspace and allowing your mind to work at its best, so you can be your most productive self. Light cleaning and organization is also something you can do to keep up your own personal space.
Use Storage For Important Items Not Used Regularly
Proper storage is key to keeping things tidy and neat. With proper storage, important documents – from financial materials to personal items – can be kept secure and easy to find when needed. Not only do filing cabinets, shelves and storage cabinets help organize your desk supplies, but having designated spots for items like holiday decorations makes finding them much simpler later on.
Make a Designated Space For Everything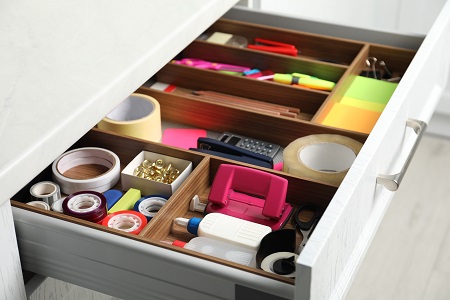 Take inventory of any essential items you use daily and organize them in an easy-to-reach place so they are ergonomically within arm's reach whenever you need them. For example, place your pens in a cup holder within reaching distance. This way, you will be able to easily locate the item next time it's needed, streamlining the efficiency of your workflow.
Organizing your desk drawers is an efficient and achievable way to create a work-friendly environment. Start by designating every drawer to specific types of supplies, such as making one drawer a place for just blank lined paper and another drawer for spare highlighters, pens, tape, post-it notes, and notepads.
Throw Away or Give Away What You Dont Use
If you're overwhelmed by desk clutter, try the "Get Rid of What You Don't Use" approach. Simply gather any items currently on your desk or nearby and place them in a box. Once a week, take inventory and assess what is still in the box – if it hasn't been used in seven days, get rid of it or place it in storage! Being proactive with desk clutter will help keep things organized and under control.
Go Paperless For As Much As You Can If Not Already
Reducing paper waste in the office is a great way to clear some clutter while also impacting the environment in positive ways. Instead of printing out emails and forms, more organizations are turning to online programs to save their information. This not only promotes an eco-friendly office atmosphere but also makes organizing and sharing data more efficient. By moving towards having a paperless office building, you can help de-clutter your workspace.
Have Proper Cleaning Products On Hand
Developing the habit of cleaning your desk off at the end of each day can help you take on the following day with a clear focus and determined attitude.
Here are some cleanings you can do:
Daily:
Throw away any trash left out, such as from snacks or post-it notes you don't need anymore.
Put the items you have out back to their designated places.
Take home what you brought to the office, such as cups or plastic containers from lunch.
Once every other week or so:
Lightly dust around your desk area.
Use sanitizing wipes that can be used on keyboards and other electronic to clean surfaces.
Spray a compressed air bottle between the keys on your keyboard to remove dust and crumbs.
Minimize Desk Clutter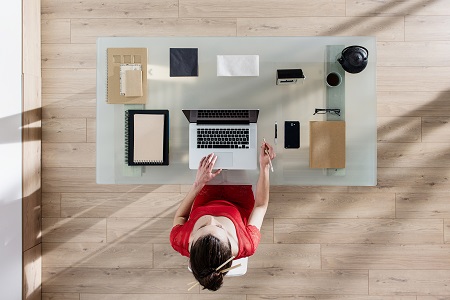 Keeping your desk organized can be a charmingly simple way to boost your productivity dramatically. By minimizing the items on your desk, you can maximize the available space and keep all of the objects you use most within easy reach. Here are some ideas on how to do this:
Stop stockpiling supplies. Only keep spares of what you often use in your drawers and the other extras in storage somewhere else.
Only use one or two decorations on your desk, such as a plant and a photo in a frame.
Set up floating shelves on your wall if you have one and are allowed to use it.
Invest in a pens/pencil cup holder or office desk organizer.
Put only a few items on your desk that you often use, such as a stack of post-it notes or your calendar.
Hide Electrical Wires
Ensuring that the wires in your space don't overload the eye can be a surprisingly straightforward fix. Not only is it handy to use surge protectors so that all your cords are connected to the same outlet, but hiding your wires strategically helps ensure they don't detract from the aesthetic of your area. Try putting them behind your work desk or in a wire cable hole in your desk if you have one.
Use Air Fresheners
Air fresheners can often be the deciding factor between a pleasant or unpleasant work environment. Not only do they help keep your surroundings smelling nice and fresh, but they create an atmosphere that is inviting, welcoming and positive.
Set Up A Regular Deep Cleaning Schedule With Office Cleaning Professionals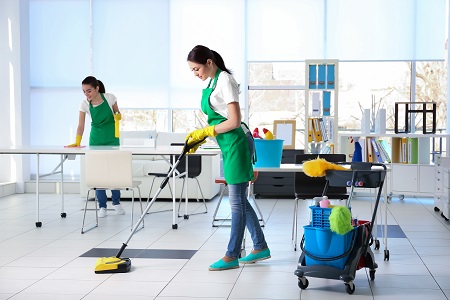 At Health Point Cleaning Solutions of Minnesota, we believe every workspace deserves to shine! We understand that regular cleaning isn't just about looks: it's also an important factor in maintaining a productive and healthy workspace. That's why our highly trained cleaning specialists are dedicated to delivering the highest quality services available. We never settle for anything less – we use state-of-the-art equipment to provide clients in Minneapolis with the best office cleaning services. To keep your office sparkling, give us a call today and schedule an appointment. We look forward to reducing your stress with our top-notch services!
Here are the related cleaning services we provide:
Janitorial Services
Commercial Cleaning Services
School Cleaning Services
Church Cleaning Services
Benefits from choosing Health Point Cleaning Solutions of Minnesota:
A cleaner commercial property
Dedicated cleaning crews
Top-notch cleaning equipment used
Healthier space for working
Read our About Us page for more information about our company!