Innovation to Protect Your Workplace
Commercial cleaning has evolved rapidly since the days of dusty push brooms and dirty rags. At Health Point Cleaning Solutions, we make it our mission to use the most reliable products and tools to deliver you the most comprehensive clean possible. That's why we chose the Clorox Total 360 System™ to headline our arsenal of advanced cleaning equipment.
The Clorox Total 360 System™ combines electrostatic technology with disinfectant cleaner and sanitizing spray to ensure your surfaces are not only sparkling like new, but also safe and germ-free. For over 16 years, we have continually prioritized the efficacy, compliance, and environmental impact of the products we use to clean your facilities. The results we've seen with Clorox Total 360™ have once again helped reinforce our gold standard in commercial cleaning. Health Point Cleaning Solutions is your answer to professional cleaners in Minneapolis. Contact us today for an appointment, and we'll be happy to tell you more about our whole suite of innovative cleaning techniques.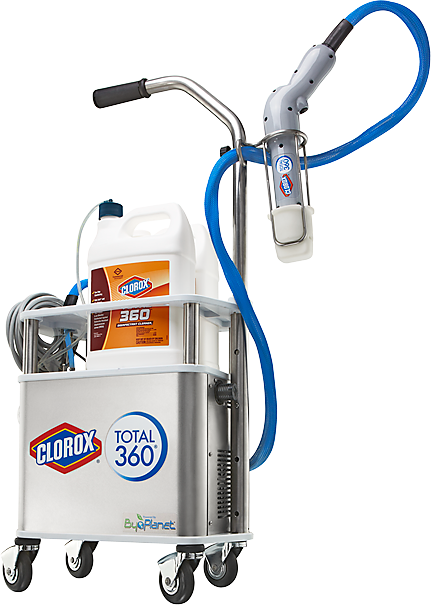 Raising the Bar to Exceed Your Standards
Corporate cleaners in the Minneapolis – St. Paul area take a wide variety of approaches, but if they're not using Clorox Total 360™, your space might not be getting the comprehensive clean you paid for. Traditional cleaners like sprays, foggers, misters, and mops provide limited surface coverage and waste large amounts of cleaning solution. They also tend to take longer requiring more labor and inflating the cost of your cleaning service.
By training our team of cleaning technicians to use the Clorox Total 360 System™, we're able to provide complete surface coverage while keeping your costs low. The electrostatic sprayer applies a charge to the cleaning solution particles enabling them to reach and cling to undersides, backsides, and other hard-to-reach surfaces. The system allows for an air dry finish eliminating the need for streak-prone wipe downs. From start to finish, the Clorox Total 360 System™ is in line with our approach at Health Point to never leave anything to chance and deliver a consistent clean upon every visit to your workspace.
The Stakes Have Never Been Higher
With the COVID-19 pandemic continuing to affect how businesses everywhere operate, corporate cleaners like Health Point are providing affordable, effective solutions. It's products like the Clorox Total 360 System™ that allow us to help businesses get back up and running in unprecedented times.
First the Clorox Total 360™ Disinfectant Cleaner wipes out harmful viruses and infectious pathogens. Then, the Clorox Anywhere™ Hard Surface Sanitizer kills 99.9% of harmful bacteria capable of causing foodborne illness. This combination of state-of-the-art solutions with electrostatic technology is EPA-approved to kill the COVID-19 virus on hard surfaces. From computers and phones to handrails and countertops, your entire workspace will be protected from sickness and bacteria.
At a time when businesses are struggling to stay afloat, we're committed to saving you time and money. Absenteeism and illness are taking their toll on companies of all shapes and sizes. With the power of Clorox Total 360™ and our team of trained professionals, your facilities can stay safe, healthy, and germ-free for your clients and employees. Don't trust your business to just any cleaning service in the Twin Cities. Choose the local cleaning professionals at Health Point for results, products, and techniques you can rely on.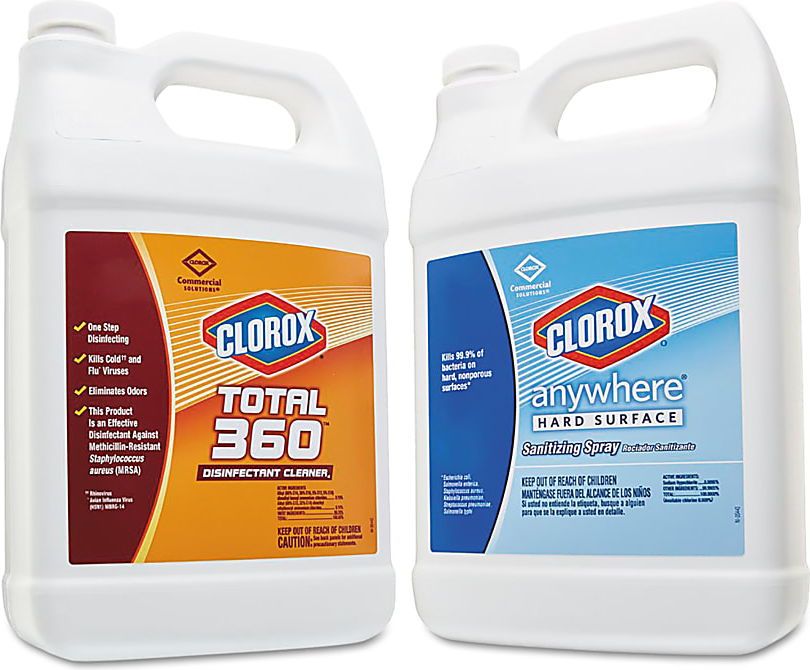 A Comprehensive Approach to Commercial Cleaning
Even with the superior benefits of the Clorox Total 360 System™, we recognize that commercial cleaning goes far beyond one product or tool. At Health Point, Clorox Total 360™ is the final step in a detailed cleaning regimen that is tailored to meet the needs of your specific workspace.
While other Minneapolis and St. Paul cleaners employ a one-size-fits-all approach, we work closely with you to create a custom sanitation plan that works best for your business. Our staff of cleaning technicians provides flexible scheduling options as to not disrupt your normal business hours. Office buildings, medical facilities, schools, banks, restaurants, and more. Whatever space you operate, we have the team and the tools required to ensure a professional cleaning experience that leaves your boss and your budget satisfied.
For more information, or to schedule an appointment, contact us today at Health Point Cleaning Solutions in Minneapolis and St. Paul!