Give Us A Call For Professional Office Cleaning In Minneapolis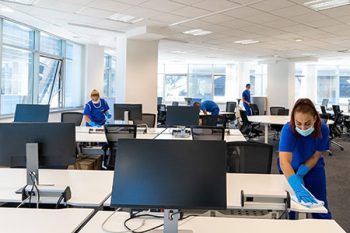 As a business owner, you have enough to worry about without having to add commercial cleaning services to your list of concerns. However, the reality is that a clean and professional appearance is essential to maintaining a successful business. That's where we come in. At Health Point Cleaning Solutions of Minnesota, we provide the professional cleaning service you need to keep your workplace looking its best. We understand that no two businesses are alike, which is why we offer customized cleaning plans designed to meet your specific needs, budget, and schedule.
Whether you need daily, weekly, or monthly service, we'll be there to keep your office clean and healthy giving you the peace of mind you deserve. Our team of cleaning professionals strives to provide business owners in Minneapolis and the surrounding areas with the commercial cleaning and janitorial services they need. Give us a call today to schedule an appointment.
When You're Looking For Office Cleaning Companies We're Here To Help
A clean office is a happy office, and a happy office is a productive one. It's hard to feel motivated when your work area is cluttered and dusty. Plus, first impressions are everything, especially in the business world. If potential clients or customers see a messy lobby or dirty bathrooms, they're not likely to want to do business with you. At Health Point Cleaning Solutions, we understand that every business is different and has unique cleaning needs. That's why we offer a customized cleaning schedule that can be tailored to your specific requirements. Our affordable cleaning services include:
Vacuuming
Carpet Cleaning
Mopping
Dusting
Window Cleaning
Bathroom Cleaning
Sanitizing and Disinfecting
And More
Our cleaning crews always use the highest quality cleaning products and the latest technology to ensure a thorough clean. So if you're looking for a comprehensive cleaning service, we're here to help. Contact us today to learn more about our office cleaning services.
The Search For Office Cleaning Services Near Me Is Over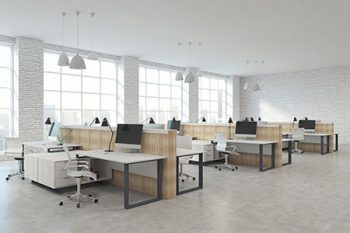 A clean and well-maintained commercial space is not only more attractive to your staff and customers, but it can also help to reduce the spread of illnesses. At Health Point Cleaning Solutions, we offer a wide range of professional cleaning services that are designed to keep your business looking its best. We understand the importance of maintaining a clean and healthy environment for your employees, and our team of experienced professionals will work diligently to meet your unique needs. In addition to a regular cleaning service, we also offer deep-cleaning services that are perfect for cold and flu season. Our commercial cleaning services are available for all business types, including office buildings, retail stores, restaurants, and more.
At Health Point Cleaning Solutions, we have been providing commercial cleaning services to businesses in Minneapolis for over 16 years, and we're experts at creating a clean and welcoming environment. Our team of sanitation professionals uses state-of-the-art technology and cleaning products to thoroughly clean every nook and cranny of your office, from the lobby to the bathrooms. And we don't just do a one-time deep clean – we offer regular cleaning services so you can always maintain a clean and professional space. Give us a call today to learn how our cleaning crews can improve your business.
We Provide The Business Cleaning Services You Need
At Health Point Cleaning Solutions, we strive to provide our clients with the highest quality office cleaning services available. We understand that even small businesses can benefit from regular cleaning, and we are dedicated to helping you maintain a healthy and productive workplace. Our cleaning specialists are highly trained and use state-of-the-art equipment to deliver the highest quality cleaning services available.
Our cleaning service has been in business for over a decade, providing top-quality cleaning services to corporate offices, schools, restaurants, medical offices, and more. We recognize that every business has unique cleaning needs, so we tailor our cleaning procedures to meet your specific requirements. We'll leave your space spotless and germ-free, providing a clean and healthy work environment for your employees and clients. If you're looking for an affordable solution to office cleaning in Minneapolis, call us today to schedule an appointment. We look forward to meeting your cleaning needs!